In Memory
Tom JANSON, Dds VIEW PROFILE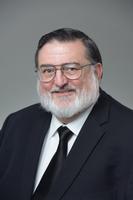 Shawn Kelsall informed us that Tom Janson recently passed away. What a kind man he was.
Here is his obituary:
Thomas (Tom) Jay Janson, born October 12, 1949 in La Grange, TX, died unexpectedly but peacefully on January 24, 2020 at his home in Houston, TX. After attending Robert E. Lee High School, Tom earned degrees from Rice University and the University of Texas Dental Branch. He was a dentist by profession and personality and proudly sustained a private dental practice in the Houston area from 1975 until his death.
In 1986, he accepted an invitation to "stay for dinner" after helping a Scout with a merit badge and a year later married Linda who extended the invitation, a marriage that would last 32 years until his death. His daughter Katherine was born in 1987. Tom was deeply committed to the fabric of the local community. His love for music led to decades of singing in church choirs at St. Martin's Lutheran and New Hope Lutheran. He was active with the Boy Scouts of America, earning the rank of Eagle and serving as an adult leader for many years with Troop 549. His years of service to the South End Optimist Club reflected his belief that people are inherently good, the universe is a kind place, and God is loving.
His patients, many of whom came to him for years or even decades, described him as always upbeat, smiling, and skilled. He shared his love of dry British humor and television shows with his children. He was gabby and loquacious and never missed a chance to chat with friends, family, acquaintances, or strangers. Those who knew him loved him for his sense of humor, approachability, thoughtfulness, and ceaseless kindness. He used his unending curiosity to instill a love of science and exploration in his children. He assumed the best in others and was quick to offer a smile and a kind word. He lived a charmed life and will be missed greatly.
Tom is preceded in death by his parents, James and Imogene Janson. In addition to his wife Linda, he leaves behind his daughter Katherine Janson Merilo (Aleks) of Tacoma, WA; his step-daughter Jennifer Baird Humberson (Karl) of Richmond, VA; his step-son Justus Baird (Julie Roth) of Princeton, NJ; his brothers Leslie Janson (Judy) and Mike Janson (Janet) of Houston, one grandson Arden and five step-grandchildren, Calvin, Mathew, Ilan, Rafael and Noa.
A Memorial Service will be held at New Hope Lutheran Church, 1424 FM 1092 Rd, Missouri City, TX 77459, on Saturday, February 1, at 3:00 PM. In lieu of flowers, please send donations to Boy Scout Troop 549. Checks may be written to "BSA Troop 549" and mailed to: BSA Troop 549 c/o ChristChurch Presbyterian, 5001 Bellaire Blvd, Bellaire, TX 77401.
https://www.dignitymemorial.com/obituaries/bellaire-tx/thomas-janson-9016299
Click here to see TOM's last Profile entry.