Robert E Lee

High School




Class Of 1968
Welcome to the Official
Houston Robert E. Lee High Class of 1968 website
(In 2016, the school was renamed Margaret Long Wisdom High School,
after the much-loved journalism teacher, Margaret Wisdom. This was during the period when schools with names of anyone involved with the South during gthe Civil War were renamed.)

The 50th reunion will be at the Cadillac Bar, in Houston, on Saturday, September 29, 2018. Yes, 50th! If you've never attended a reunion, this is the one to attend!
We really need your help in finding as many of our classmates as possible. If you see a classmate, or are friends with them on Facebook or any other social media, please encourage them to register on this site and let us know how to get in touch with them. If you know of any class members that should be on the In Memoriam page, please let Cay know.
We are guesstimating that about 150 to 180 people (spouses, partners, dates included) will attend. Members of other classes - before or after ours - are more than welcome.
We'll have a DJ and probably a photo booth and some more fun activities. We may even have prizes for Person Who Traveled the Longest Distance to Attend, Most Grandchildren, Longest Marriage, Longest Tenure at Job... Think of some categories and we'll give it a shot.
The cost hasn't been set yet, but it will be less than $75 per person, plus a cash bar. We will accept credit cards and checks or money orders.
We have a Facebook page: RE Lee Houston '68, so check it out and add to it.
If you haven't done so already, please complete your profile on this site.
Just so you'll know, the Missing Classmates page automatically includes anyone who hasn't registered their profile, so there will be many, many names. Please register on the site, even if you can't attend a reunion, and urge other classmates to do so.
Remember: We'd love to have members of the classes before ours and a couple of years after ours join us at our 50th reunion. If you were not in our 1968 class and you are interested in attending our 50th, please send me an email with your first, last/maiden and married names, plus your graduation year or affiliation (teacher, etc.). I'll set up a profile for you as a Member Guest.
Stay tuned for future emails.
Cay Dickson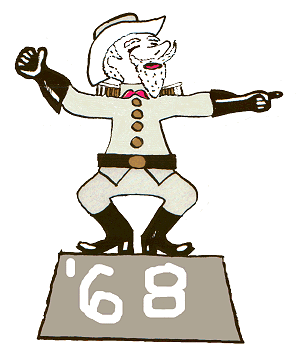 ANNOUNCEMENTS
50th Reunion - Saturday, September 29, 2018
Cadillac Bar
1802 Shepherd Dr, Houston, TX 77007
7pm-11pm
DJ - Photo Booth - More
Cost TBD, but will be affordable ! + Cash Bar
We're going to set up a PayPal account, so you can pay with that, even if you don't have an account. If you want to send a check...
Send checks made out to: Cay Dickson
2003 Indiana St.
Houston, TX 77019
Dress is casual, fun and easy.